Uniting for Children and Youth – UCY is a grassroots group of Ottawa-Outaouais citizens wanting to improve the wellbeing of young people and the world they are inheriting. Volunteers created it and run it, and it has no political affiliations. Its members are young people, parents, grandparents, teachers, health professionals and others who wish to make a difference in the lives of children and youth.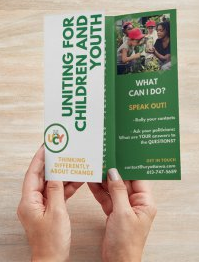 2018 is an election year in Ontario. Provincial elections take place in June, municipal and school board elections in October. Help us to make the better treatment of children and youth an election issue. See How You Can Help.
The following are some of the topics we cover. Read our blog, visit our Facebook page and follow us on Twitter to learn about them.
the importance of play and being out in nature (See our first Blog post.)
the benefits to involving children and youth meaningfully in making decisions that affect them
equity and acceptance for children and youth of all cultures, persuasions, and abilities
active and safe routes to school and throughout communities
healthy living initiatives and activities in the community
ways to cultivate creativity and innovation
preventing depression and supporting those afflicted
schools of the future
the needs of teachers in a changing learning environment
the skills and attitudes needed to be successful in the 21st century
Become a member of UCY. Let's seize the moment and take advantage of the upcoming elections. Help us to make the lives of children and youth the lives they want to live.